ÉPIDÉMIE CORONAVIRUS COVID-19
La plage est accessible de 6 h à 19 h pour des usages dynamiques et dans le respect des règles édictées. Située à 500 mètres du centre-ville, la plage du Havre propose 2 kilomètres de sable et galets entre Le Havre et Sainte-Adresse.
The promenade designed by the talented landscaper Alexandre Chemetoff in 1994 is an invitation to stroll, while a walk near the seawall on stormy days offers a spectacular show to those who dare.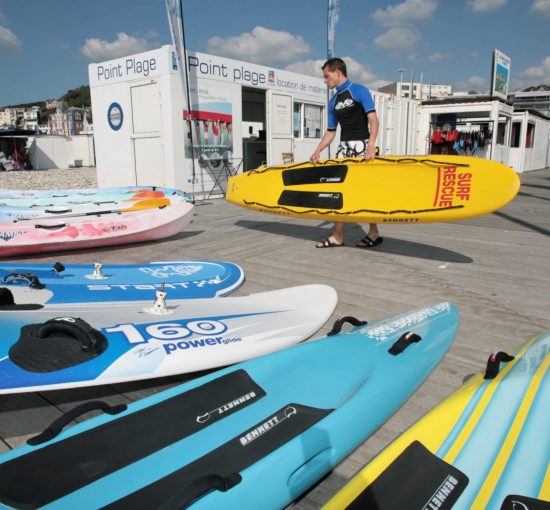 Playing sports on the beach of Le Havre
Come along for a carefree visit: in summer, Point Plage offers single or double canoes, paddle-boards, skimboards, windsurfing boards and fun-boats for hire… For a fresh-water swim, the pool at the Club Nautique Havrais (CNH) is open to tourists and visitors from May to September (more information on the Le Havre swimming pool partners).
Various facilities are at your disposal for beach volleyball, street basketball and boules. For even bigger thrills, Le Havre skatepark with its 1200m² bowl is a vast skate venue since it's the biggest free open-air skatepark in France. Fans of skates, rollerblades, BMX or longboard skates can enjoy it as passers-by take in the action.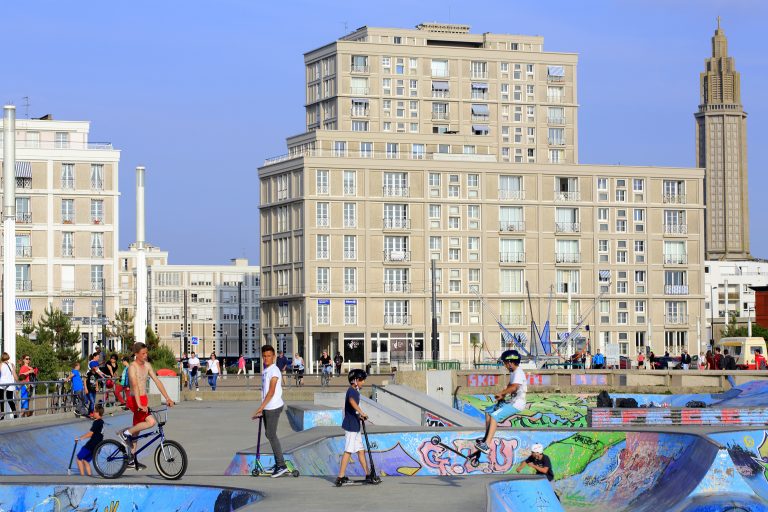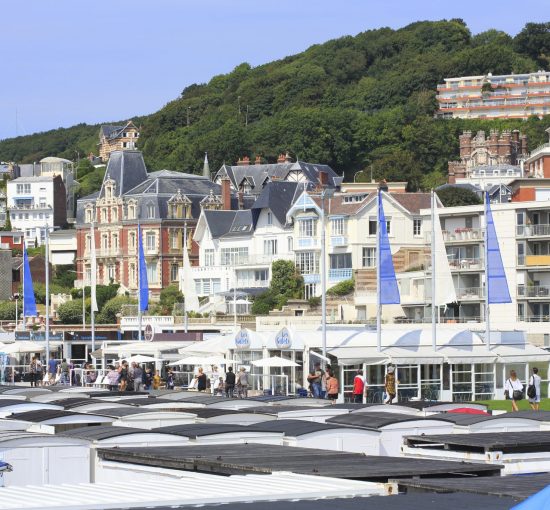 Le Havre beach and its restaurants
Le Havre's seaside restaurants, bars and takeaway shops  welcome you from mid-March to the end of September to satisfy appetites big and small, from the traditional mussels and chips to more elaborate and exotic dishes, and why not a small ice cream, too?
Alone, with family or friends, lay out your towel on the pebble beach.
The Bains Maritimes, open from May to September, offers deckchair hire, sanitary facilities, showers, lockers and bicycle parking.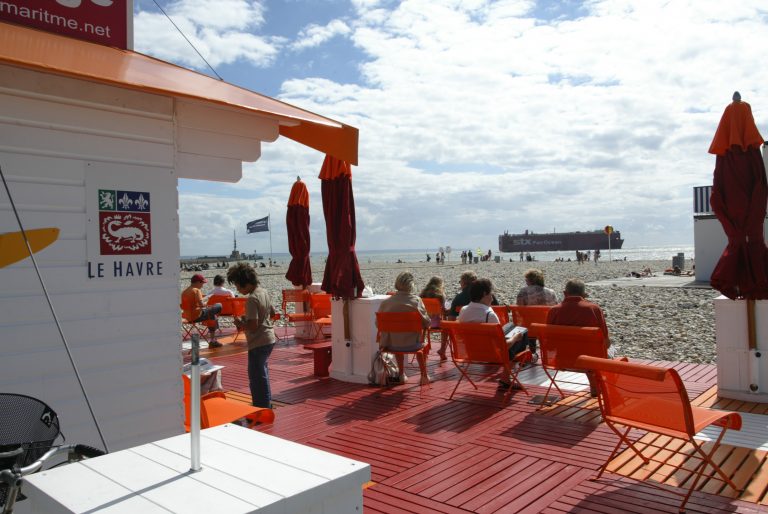 Feel like settling down with a good book?
For several years now, the Seine Maritime department has been providing "reading on the beach"  for young and old alike.
And don't forget the children, who have playgrounds all year round, as well as various other facilities in summer.
The city of Le Havre, a member of the "Ville Handicap" charter, provides disabled people with free facilities and services adapted to the beach.
Of particular note is the free loan of "tiralos" (beach-friendly wheelchairs) for access to the Bains Maritimes.