Dixie days, jazz festival
Dixie Days is a music festival that was first held in 1997.
Sainte-Adresse This event welcomes jazz in all its colours and trends, during the Pentecost weekend in Sainte-Adresse, which was the capital of Belgium during the First World War.
Swing, colours and sea air
From Le Havre beach to the promenade at Sainte-Adresse, three stages set up along the seafront follow one another to host non-stop concerts from afternoon to evening with a really friendly feel. A total of about forty free performances are given consecutively over three days each year. They mean spectators can dance to the rhythm of the instruments, which are used to best effect by the performers, as the bands take turns to build a great atmosphere. There's also an opening and a closing concert. These require a ticket to be bought in advance and are traditionally held within the Espace Sarah Bernhardt.
Whether you're a simple visitor, fervent festival-goer, a water sports enthusiast or sitting there with a pot of mussels and chips in one of the restaurants on the beach, you'll be sure to enjoy a weekend full of music and entertainment.
History of the Dixie Days Festival
The initial challenge was to bring the beachfront to life, transforming it into a large score whose waves would form the lines of a music event entirely dedicated to jazz. For a long time now, it's all paid off. But 15 years ago, it wasn't quite so obvious. That was before a team of enthusiasts led by Martine Lajarige and Jean-Paul Bravard came on the scene.
The beginnings of the festival were quite modest. The artists performed on stages with no sound system, in bars, with six volunteers at their side, working throughout without counting the cost. At that time there was an organised competition which tended towards "classical and traditional" jazz.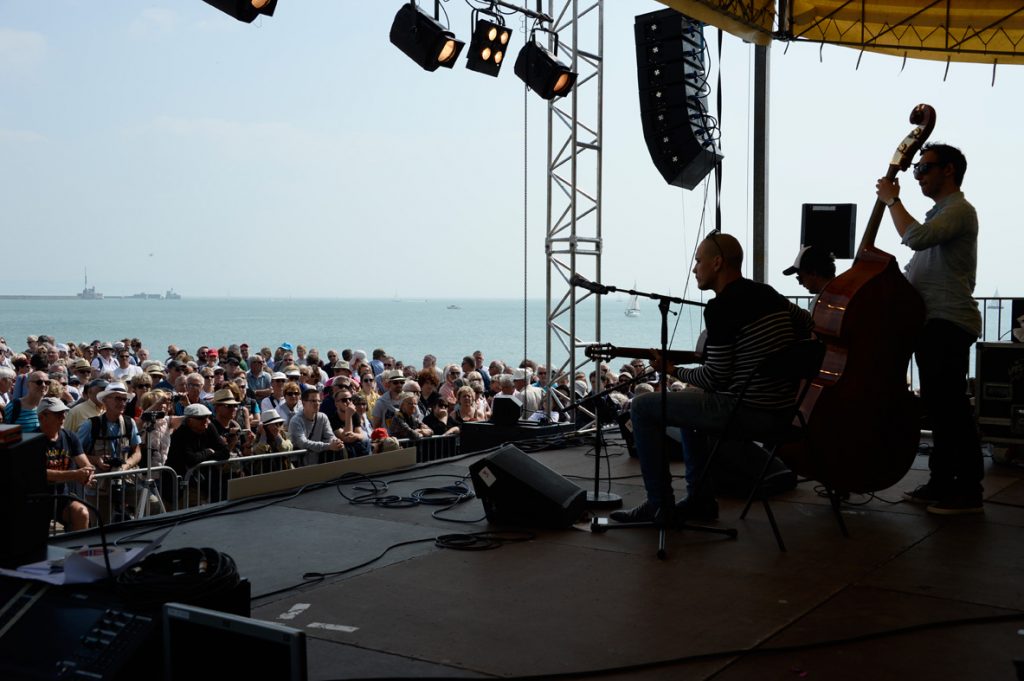 Ten groups were selected and performed before a prestigious jury: Marc Laferrière, Daniel Huck, Philippe Adler and Le Havre-born Bob Quibel, travelling companion of the famous and unmissable Claude Bolling! "Sainte-Adresse Dixie Days", the name originally given to the festival, was on the right track.
Two years later, the City of Le Havre joined the event, giving it logistical and financial support. The Dixie Days took off with several stages facing the sea. The number of volunteers increased from six to thirty, and the concerts, most of which were free, soon reached forty. The spectators, on the other hand, flocked in ever greater numbers until they reached 30,000 people.
As the festival grew, it was decided to broaden its horizons, leaving the competition behind and giving way to a change of rhythm and opening up to other styles. Martine Lajarige and Jean-Paul Bravard, the founders of the festival, hosted some remarkable artists, to the chagrin of many organisers, with among the headliners: Rhoda Scott, Irakli, les Gigolos, Marc Fosset, Lionel and Stéphane Belmondo, Marc Leferrière, Pierrick Pedron, Daniel Huck, Christophe Dal Sasso, Tchavolo Schmitt, Bob Mintzer, Angelo Debarre…