Sainte-Anne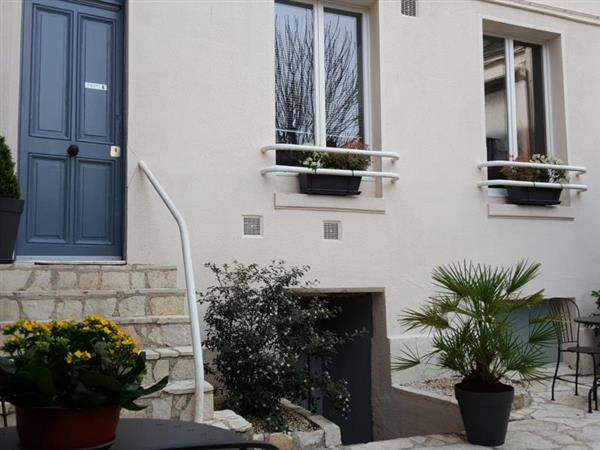 Description
The comfortable furnished apartment located in the old center, secure, pleasant and quiet (set back from the street), accessible after a few steps, benefits from the advantages of a renovated townhouse with two other apartments, overlooking the terrace and the patio (a garden furniture set aside for you).
The accommodation, equipped with furniture, dishes, appliances (fridge, washing machine, dishwasher, ceramic hob, oven, microwave, iron with table, vacuum cleaner, coffee maker …), 1 double bed, TV flat screen, linens, intercom, wifi … and private terrace with garden furniture. WC independent of the bathroom. Cot and highchair available free of charge. Individual and closed box for bikes.
Rental charges included: bed linen, towels, tea towels, tourist tax, heating, wifi …
Easy arrival thanks to a secure key box system (late arrival possible). Luggage storage.
Garden, Own terrace, Patio set
Equipement & services
Crib
Dishwasher
Internet access
Wifi
Microwave
Own washing machine
Heating
Colour television
Cleaning / housework
Linen provided
Prices
Week (appartment) : 343,00€
– Du 04/02/2023 au 03/03/2023, – Du 04/02/2023 au 03/03/2023
Week (appartment) : – Mid-season385,00€
– Du 03/06/2023 au 30/06/2023, – Du 27/05/2023 au 30/06/2023
Week (appartment) : – Peak-season413,00€
– Du 29/07/2023 au 18/08/2023, – Du 29/07/2023 au 18/08/2023
Week (appartment) : – High-season413,00€
– Du 08/07/2023 au 28/07/2023, – Du 19/08/2023 au 25/08/2023, – Du 08/07/2023 au 28/07/2023, – Du 19/08/2023 au 25/08/2023
Week (appartment) : 343,00€
– Du 04/02/2023 au 03/03/2023, – Du 04/02/2023 au 03/03/2023
Week (appartment) : – Mid-season385,00€
– Du 03/06/2023 au 30/06/2023, – Du 27/05/2023 au 30/06/2023
Week (appartment) : – High-season413,00€
– Du 08/07/2023 au 28/07/2023, – Du 19/08/2023 au 25/08/2023, – Du 08/07/2023 au 28/07/2023, – Du 19/08/2023 au 25/08/2023
Week (appartment) : – Peak-season413,00€
– Du 29/07/2023 au 18/08/2023, – Du 29/07/2023 au 18/08/2023
Week-end (appartment) :
– Du 03/06/2023 au 30/06/2023, – Du 27/05/2023 au 30/06/2023, – Du 03/06/2023 au 30/06/2023, – Du 27/05/2023 au 30/06/2023
Payment methods
Carte bleue
Holiday vouchers
Location