Git'Auto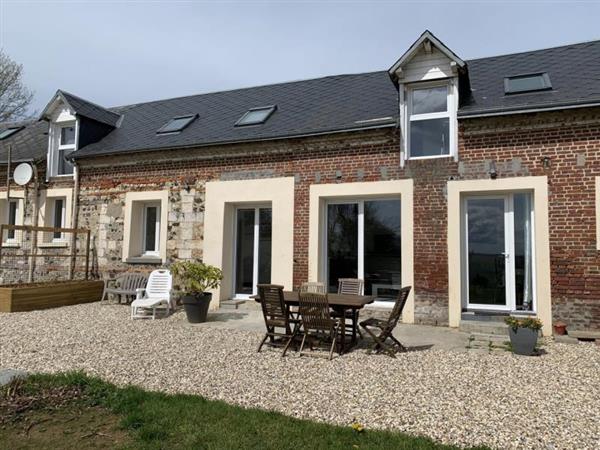 Description
Take advantage of this accommodation with your family, which offers good times in perspective, in the peace and quiet of the countryside.
Bright and spacious gite, adjoining another gite. Lawn area and private terrace with garden furniture, barbecue. Shared garden enclosed by the 2 gîtes: pétanque court, small vegetable garden at the entrance to the property, enclosure with a few hens and 1 beehive, parking.
Located between Etretat and Le Havre, 15 minutes by car from the Normandy bridge, you can easily visit Honfleur and Deauville. A hiking trail is located near the cottage which allows you to go to Montivilliers on foot. Several local markets nearby which offer very good local products. No public transport nearby: TER in Montivilliers 4 km from the gîte, train station in Le Havre 12 km from the gîte.
Garden, Own terrace, Patio set
Equipement & services
Crib
Dishwasher
Barbecue
Internet access
Wifi
Freezer
Microwave
Own washing machine
Heating
Woodstove / Pellet
Colour television
Linen provided
Prices
Week (appartment) : 746,00€
– Du 04/02/2023 au 03/03/2023, – Du 04/02/2023 au 03/03/2023
Week (appartment) : – Mid-season550,00€
– Du 03/06/2023 au 30/06/2023, – Du 27/05/2023 au 30/06/2023
Week (appartment) : – Peak-season800,00€
– Du 29/07/2023 au 18/08/2023, – Du 29/07/2023 au 18/08/2023
Week (appartment) : – High-season800,00€
– Du 08/07/2023 au 28/07/2023, – Du 19/08/2023 au 25/08/2023, – Du 08/07/2023 au 28/07/2023, – Du 19/08/2023 au 25/08/2023
Week (appartment) : 746,00€
– Du 04/02/2023 au 03/03/2023, – Du 04/02/2023 au 03/03/2023
Week (appartment) : – Mid-season550,00€
– Du 03/06/2023 au 30/06/2023, – Du 27/05/2023 au 30/06/2023
Week (appartment) : – High-season800,00€
– Du 08/07/2023 au 28/07/2023, – Du 19/08/2023 au 25/08/2023, – Du 08/07/2023 au 28/07/2023, – Du 19/08/2023 au 25/08/2023
Week (appartment) : – Peak-season800,00€
– Du 29/07/2023 au 18/08/2023, – Du 29/07/2023 au 18/08/2023
Week-end (appartment) :
– Du 03/06/2023 au 30/06/2023, – Du 27/05/2023 au 30/06/2023, – Du 03/06/2023 au 30/06/2023, – Du 27/05/2023 au 30/06/2023
Payment methods
Carte bleue
Holiday vouchers
Online booking
Location