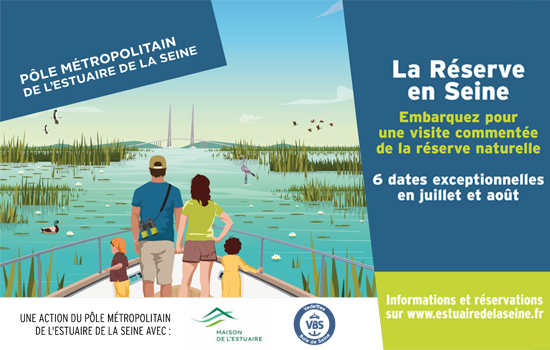 Description
A unique experience in the heart of the reserve.
The Pôle métropolitain, the Maison de l'estuaire and the shipowner Vedettes Baie de Seine offer an exceptional 3-hour cruise in the heart of the Seine estuary nature reserve. Discover the fauna, flora and landscapes of the Seine estuary.
This cruise takes the Ville du Havre boat and its occupants against the current of the Seine River to the confluence of the Risle Maritime. The visit is commented by the Maison de l'Estuaire to get a different understanding of this protected natural area, its landscapes, the fauna that populates its turbulent waters or the important events that have, over time, shaped its current face.
Prices
Base rate : 24,00€
Child rate : 17,00€
(De 4 à 14 ans)
Free :
(Enfant de moins de 4 ans)
Location