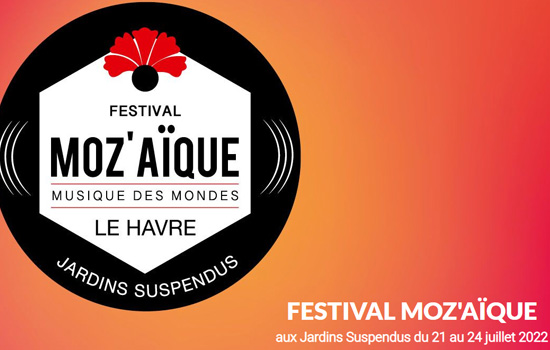 Description
MoZ'aïque, the world music festival in Le Havre, returns this year from July 21 to 24 in a modified, more user-friendly format.
For its thirteenth edition, the festival is evolving with a formula concentrated over 4 days which leaves more room for celebrations and encounters, but while retaining its DNA: a festival on a human scale with a demanding program in the Hanging Gardens, a garden botanic area of ​​17ha labeled "Remarkable Garden" and "Botanical Garden".
So this year, festival-goers will come and dance to the crazy rhythm of Puerto Candelaria, self-proclaimed "Colombia's most daring, controversial and innovative music group of the last decade"; let yourself be enchanted by Toni Green, the diva of Memphis, whose voice navigates the lands of Aretha Franklin, Ann Peebles, Etta James, or Sharon Jones; the Cuban tornado Cimafunk, spiritual son of James Brown and George Clinton will set the stage on fire; Groundation, the legendary Californian jazz reggae group, will come to demonstrate, if it is still needed, that Americans know how to play reggae.
On the Jazz side, the pianist David Bressat in Quintet formation, "Artist Revelation" of JazzMag, will offer us a little warmth with an energetic and colorful sound; the powerful and captivating voice of Izo FitzRoy who will come to offer his mix of Gospel, Funk, Blues and Soul, all with English sauce; one of the most charismatic Jazz singers of her generation, Célia Kameni, consecrated as a divinity by André Manoukian and on stage with one of the best pianist-arrangers in the jazz universe, Alfio Origlio… or even Lass, the new ambassador of Afropo, which invites you on a musical journey between Senegal and electronics; Canadians from The Brooks will take festival-goers on board with their funky grooves fueled by luminous soul.
MoZ'aïque welcomes you for a particularly festive and convivial 13th edition. On the program, groups from all walks of life, who have in common to feed on the musical richness of the world and to transcend it on stage. More than a musical rendezvous, MoZ'aïque is an experience in its own right: a sensory journey to the heart of universal cultures, an escape from everyday life.
Prices
Base rate : 45,00€
Base rate : 15,00€
Free :
Location