Exposition : Alain Bertrand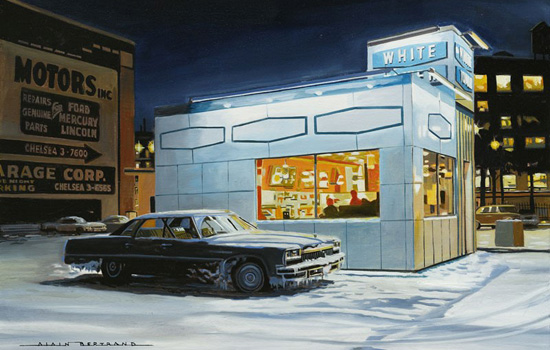 Description
La Galerie Hamon a l'honneur de vous présenter l'exposition d'Alain Bertrand.
Alain Bertrand montre très tôt une grande aptitude pour le dessin. Il s'amuse à copier les couvertures du journal de Mickey et du journal de Tintin dès son plus jeune âge. Il rentre dans un internat à Évreux, qui se trouve à proximité d'une base militaire américaine c'est là qu'il va découvrir cet univers US, avec ses voitures et son rock 'n' roll, dont il ne se détachera plus.
Après l' armée il rentre chez Renault comme dessinateur industriel. Parallèlement à son travail, il commence à vendre des planches de BD à Tintin, Lucky Luke magazine, et Pilote, essentiellement sur l'histoire du rock. Dans le même temps il crée avec Pascal Garnier et Guy Maestracci un fanzine trimestriel : Gellule. C'est au cours d'un premier voyage aux US en 1976 qu'il découvre l'univers des Trucks qui l'inspira.
À son retour en France, ses illustrations de camions sous le bras, il rencontre Alain Marouani, directeur artistique aux éditions musicales Barclay, qui lui confiera la réalisation de cover- albums pour Eddy Mitchell, rhythm and blues, etc. Il collabore aussi avec Phonogram, Pathé Marconi, EMI et Sony Music. Il produit des illustrations pour Léo Ferré, Boris Vian, Rock Line, Santana, Earth Wind and Fire et Michel Polnareff. Simultanément, il réalise des couvertures de magazines pour le Point, le Nouvel Observateur, l' Express, l' Expansion, l' Auto Journal et l' Magazine Automobile. Il illustre également des articles rédactionnels dans Playboy, Best, et Rock and Folk.
Il créera le studio Bahamas. C'était alors le meilleur studio d'illustrations du moment il travaille sur des campagnes pour Darty, Renault, Peugeot, Twix, Pirelli
L'artiste réalise des affiches de cinéma comme Coup de cœur de Francis Ford Coppola ; Y a-t-il ? un français dans la salle de Jean-Pierre Mocky et Mummy dearest avec Faye Dunaway.
Petit à petit Alain prend ses distances avec l'univers de la publicité, lassé de tous ces travaux de commande. Il préfère la peinture où il peut visiter ses sujets de prédilection que sont les États-Unis des fifties et la musique des seventies.
Par la suite, ses sujets évoluent. Il aime de plus en plus peindre des « murals » sur des thèmes tels que les comix, les cartoons, le surf, le rock 'n' roll et le blues. Des rock stars telles que Johnny Hallyday et Jeff Beck 8 et des stars de cinéma comme Ian McKellen achètent ses tableaux. Il entre dans de grandes collections comme celle de Peter Kneip au Luxembourg ou ses œuvres côtoient celles de grands maitres comme Andy Warhol [Pit Wagner], [Bruno Wekemans] ou Keith Haring.
Exposition du 3 au 29 mars 2023.
Vernissage le vendredi 3 mars à partir de 18h, en présence de l'artiste.
Entrée libre, du mardi au samedi de 9h30 à 12h30 et de 14h à 19h.