Exhibition: Slavery, Norman memories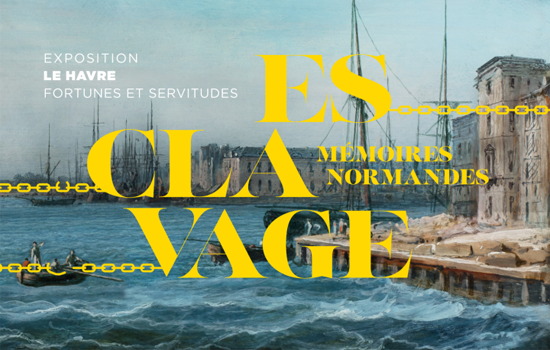 Description
The exhibition "Slavery, Norman memories" aims to show the participation of the Normans and their territory in the triangular trade in Africa and America during the 16th and 19th centuries.
From the 16th to the 19th century, more than 12 million Africans were deported to the American continent to satisfy the development of an economy that was organized between Europe, Africa and America. The "Taubira law" of May 21, 2001 officially recognizes trafficking and slavery as a crime against humanity. Since 2006, a "National Day of Memories of the Slave Trade, Slavery and Their Abolition" commemorates this painful page of history on May 10.
A major port for maritime traffic in the 18th and 19th centuries, Le Havre played an important role in triangular trade, integrating the traffic of men, women and children bought in West Africa and resold mainly on the American continent. , especially in the West Indies. This history is to this day well documented by the work of historians, although the bombings of September 1944 removed most of the material traces of this trade from public space.
For several years, the Municipal Archives service, the Art and History Museums and the municipal library have actively participated in mediation actions and developed an acquisition policy linked to the memory of slavery and the slave trade.
In Le Havre, the exhibition will occupy the entire museum of the Hôtel Dubocage de Bléville: 200 m² of exhibition space, 7 rooms (including 3 spaces of more than 50m² specially refurbished for the exhibition). The particular configuration (two buildings joined by a courtyard) and the heritage value of the place, its constraints and its advantages, will support the route and the scenography.
As in Rouen and Honfleur, the exhibition will be independent of the other two but designed in complementarity, so as to be able to be understood individually and to be integrated into a regional circuit broadening the subject. It will provide uninformed audiences and/or exclusively Le Havre visitors with essential points of reference. They will allow them on the one hand to understand the issues, the motivations, the mechanisms of the "triangular trade", the slave trade and slavery, and on the other hand to discover the involvement of Normandy in this system. economic and commercial based on the exploitation of human beings. In Le Havre, the exhibition will deal more specifically with the subject through the prism of the protagonists or the actors concerned: victims, trading companies, shipowners, crews, owners.
Exhibition from May 10 to November 10, 2023, at the Hôtel Dubocage de Bléville.
Prices
Base rate : 5,00€
Reduced rate : 3,00€
Location