Exhibition: Reliving the epic of the Volcano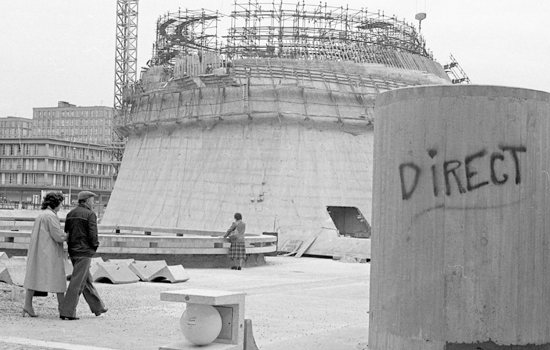 Description
From December 13, 2022 to April 1, 2023, the Armand Salacrou Library will host an exhibition devoted to the Volcano, from its conception by Oscar Niemeyer to its delivery, and then to its very importance in the cultural life of Le Havre.
On November 18, 1982, the new Maison de la culture du Havre was inaugurated after four years of work and numerous debates on the project designed by the Brazilian architect, Oscar Niemeyer. On the former Place Gambetta, in place of the pre-war Grand Théâtre, Jack Lang himself, then Minister of Culture, inaugurated this symbol of peace and gave the event a national dimension. The people of Le Havre also celebrated the completion of this gigantic project, which required 40,000 m3 of concrete. This is a great achievement considering the number of attempts and projects, before Niemeyer's, that failed due to financial and political obstacles. The exhibition, developed thanks to the collaboration between the Municipal Archives and the Heritage Department of the libraries, proposes to retrace the history of the construction project of the new theatre of Le Havre as well as its twists and turns.
Using period documents, the exhibition presented on the ground floor of the Armand Salacrou library lifts many veils. Did you know that, although the project looks like the graceful outline of a dove from the air, it took the use of a powerful Nasa calculation programme to see the two imposing curved volumes that Niemeyer has made rise from the ground in the middle of the rectilinear architecture of the reconstruction, like the chimneys of transatlantic liners? Among the documents on display are representations of the former Grand Théâtre, which was standing and then bombed, the Place Gambetta before the Niemeyer space, leaflets and newspapers documenting the project and the building site, photographs of the building site as well as the original model of the Volcan, short "film reports" from the period, and a presentation of shows that left their mark on the people of Havre. Although access is free, guided tours are also scheduled (Saturday 7 January and 4 February at 3pm – registration required).