Exhibition: BD.ART transforms the territory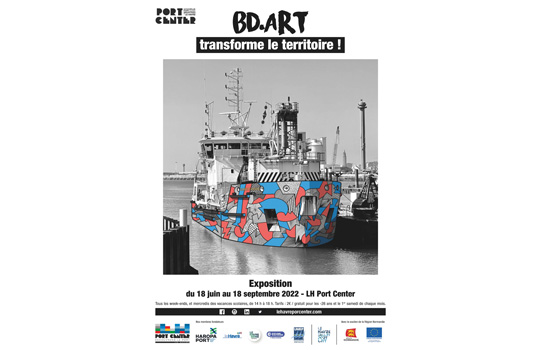 Description
The 2022 summer exhibition at the LH Port Center focuses on the transitions of the industrial-port territory. They are numerous and linked to our changing consumption patterns, with a concern for the preservation of the environment and competitiveness.
Le Havre Port Center and BD.ART worked together on the development of this exhibition. They traveled through the Le Havre industrial-port area and selected 11 sites borrowed from a transition. Eleven works are therefore to be appreciated, alongside which information media, designed with the partners, explain what transition or transformation, energetic or structural, is operated for each site.
BD.ART, which likes to offer another vision of its subjects by reinterpreting them in its own way, reveals a mise en abyme of the transformations of the territory. This exhibition is an opportunity for young and old to admire the artist's work while addressing the metamorphosis of sites in the industrial-port area.
BD.ART: Artist and Merchant Navy Officer, with "one foot on land and one foot at sea", Baptiste plays with perceptions. He mixes black and white photographs with a personal, colorful and street art-inspired pictorial approach. He multiplies the supports and medium to reinvent his shots and invite the spectators to put their visions of forms into perspective.
Exhibition from June 18 to September 18, every weekend, and Wednesdays during school holidays, from 2 p.m. to 6 p.m.
Prices
Base rate : 2,00€
Free :
(Pour les moins de 26 ans et le premier samedi du mois)
Location