Arthur's Rendezvous: Utopia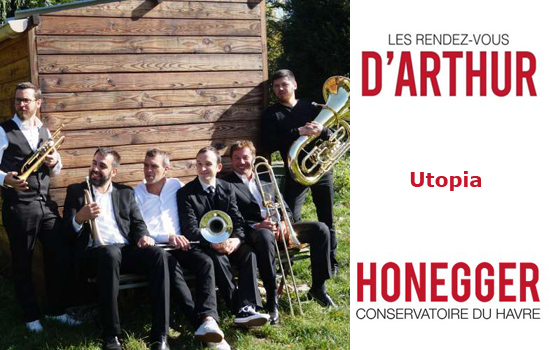 Description
Arthur's Rendezvous: Utopia: Brass Sextet
– Pierre Grimopont (trumpet)
– Pierrick Chevalier (trumpet)
– Vincent Portilla (trumpet, flugelhorn)
– Pascal Riegel (viola)
– Christophe Lion (trombone)
– Antoine Herfroy (tuba).
Discover the brass through four centuries of repertoire, fly over the lively music of the 19th and 20th centuries, make an incursion into the work of today's composers and arrangers working in the service of this living and creating ensemble in Normandy… such is the challenge of this spectacular final residence! Since their meeting in 2018, these six companions deeply believe in the power of artistic expression and have given themselves the shared objective of transmitting the emotion that the sound of brass instruments provides. And, from what is said after their passage, it seems that they succeed darn well.
Throughout the week, the sextet UTOPIA will also host a course allowing amateur and volunteer brass instruments to prepare for the closing party of Un Eté in Le Havre on Saturday evening September 17. Objective: to bring together more than a hundred instrumentalists and symbolically give the signal to start the festivities through three compositions specially created for the occasion. (Information, prerequisites and registration on conservatoire-lehavre.fr)
Les Rendez-Vous d'Arthur: 1 day, 1 venue, 1 concert:
From August 23 to August 28.
FREE ENTRANCE.