Arthur's Rendezvous: At Ricuccata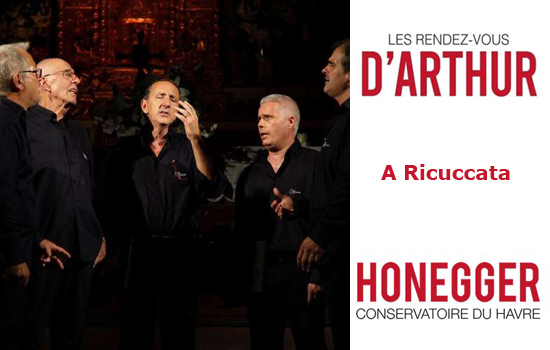 Description
Les Rendez-Vous d'Arthur: A Ricuccata: Corsican polyphonic songs
– Francois Berlinghi (voice)
– Jean-Luc Ciccoli (voice)
– Michel Bonis (voice)
– David Cros-Piezzoli (voice)
– Jacques Filippi (voice).
Composed of secular and sacred songs, the repertoire of the ensemble is built on the musical structures of traditional Corsican polyphony, the cantu in paghjella. It naturally includes traditional pieces but also contemporary creations (Messa sulena at Santu Lisandru and Dante in Paghjella) as well as adaptations of pieces from different regions of the world and more particularly from the Mediterranean basin (Mediterradighe).
Corsican polyphonic ensemble created in 1995, A Ricuccata is made up of five singers who are committed to transmitting and inscribing in their time the traditional musical heritage that has been bequeathed to them. It is in this spirit and essentially under the artistic direction of Francescu Berlinghi, doctor in ethnomusicology, state graduate for the teaching of traditional song, that A Ricuccata has developed for more than 20 years now its musical repertoire. Their residence at the Honegger Conservatory illustrates the establishment's interest in traditional repertoires as much as it embodies the dimension of openness to others of the most important Norman port city.
Les Rendez-Vous d'Arthur: 1 day, 1 venue, 1 concert:
From August 16 to August 21.
FREE ENTRANCE.