Improvisation Ensemble Concert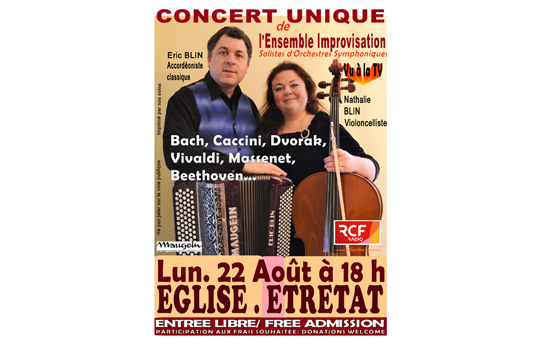 Description
Concert of classical music in duo (Nathalie Blin – Professor at the Departmental Conservatory of Laval: cellist and Eric Blin – Composer of film music: classical accordionist), organized by the association Musiques Originales de la Grande Europe.
Since its creation in 2003, the talent of the members of the Ensemble Improvisation (formation with variable and original geometry) has been praised by the public. "Their strong personality, the beauty of their sound, their great precision, projected with flair and imagination and their captivating depth" have been praised by the international press. Having led a career at the highest level and a path that multiplies daring, the musicians of the Improvisation Ensemble have performed on the greatest stages where their devouring musical curiosity leads them to explore the many facets, styles and richness of the scores where the great repertoire and the masterpieces of tomorrow fraternize without complex. Also driven by a desire for transmission and meeting, the Improvisation Ensemble strives to develop moments of exchange with the public and favors long-term projects. He puts the same will to build a demanding and eclectic discography according to a beautiful rhythm: three discs in 4 years.
On the program: Beethoven, Dvorak, Bach, Borodin, Schubert, Vivaldi, Rossini, etc.
Monday, August 22 at 6 p.m., at the Notre-Dame d'Étretat church.
Free admission, participation in costs desired.
Duration: 1h15.