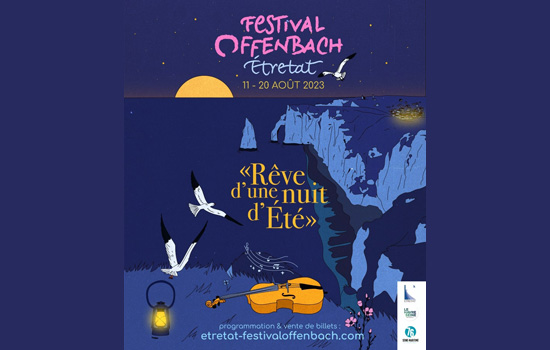 Description
Pour cette édition 2023, "Rêve d'une nuit d'été", le festival poursuit son développement. Comme chaque année, le festival consacre plus de la moitié de sa programmation aux œuvres de Jacques Offenbach et sera ouvert à plusieurs metteurs en scène, troupes d'amateurs ou professionnels, afin d'encourager la diversité créative.
Programmation :
– Jacques Offenbach en famille – le 11 août à 21h – Église Notre-Dame.
Venez découvrir un concert exceptionnel inspiré de l'esprit musical de la famille du jeune Jacques Offenbach !
Quatre virtuoses à la carrière internationale se succéderont sur scène pour interpréter des œuvres uniquement inspirées d'opéras lyriques.
– Rêverie offenbachienne 1/3 – le 12 août à 11h – Place de la Mairie d'Etretat.
Deux violoncellistes se côtoient lors de concerts en plein air, offrant une performance empreinte d'amitié et de virtuosité créant une harmonie parfaite entre les deux instruments.
– Rêverie offenbachienne 2/3 – le 12 août à 11h – Place de la Mairie d'Etretat.
– Love Songe et thérapie – le 14 août à 21h – Salle Adolphe Boissaye.
Pour la première fois depuis plus de 15 ans, le festival Offenbach programmera une pièce inspirée de Shakespeare.
Cette comédie musicale marque un élargissement de la programmation et une ouverture à d'autres formes d'art.
– Rêverie offenbachienne 3/3 – le 15 août à 17h – Perrey d'Etretat.
– Etretat, rêve de belle époque – le 17 août à 20h30 – Le Clos Lupin.
La Cie HéliosKine dirigé par Pierre-François Dollé en collaboration avec la soprano Anne Rodier, mettra en scène deux danseurs, deux chanteurs, une soprano, un ténor et une pianiste.
– Dream with me – le 19 août à 20h45 – Église Notre-Dame d'Étretat.
Le concert "Dream with me" est un événement à ne pas manquer pour tous les amateurs d'opéra lyrique !
Avec la célèbre soprano irlandaise Céline Byrne, accompagnée au violoncelle par Sébastien Hurtaud et au piano par Jeff Cohen, vous serez transporté dans un monde de rêve et d'émotion.
Festival du 11 au 20 août, sur réservation.